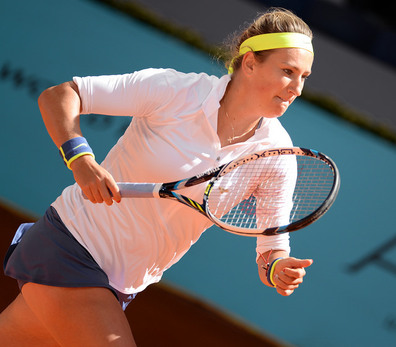 ©Tatiana, bit.ly/1ORlvey
Happy birthday to Victoria Azarenka, born on this day in 1989. Azarenka is a professional tennis player from Belarus who earned a pair of Grand Slam titles at the Australian Open in 2012 and 2013 and thus became the first Belarusian player to win a Grand Slam singles title. She maintained her title as World No. 1 for 51 weeks and is currently 10th most on the all-time list. 
Azarenka moved from Minsk, Belarus to Scottsdale, Arizona at the age of 15 to train. In 20
11, she briefly considered taking a break from the sport to focus on education; however, a thoughtful conversation with her grandmother has helped her stay on the court.
Despite her determination, Azarenka was forced to withdraw from the Aegon Classic after her left-foot injury and her ranking plummeted subsequently; she started 2015 at No. 42 and fell as lo as No. 50 in February. Nevertheless, this Belarusian tennis queen has never given up. She has been grinding her way back up the WTA Rankings this year and is now back at No. 19. 


---