The Legacy of Arthur Ashe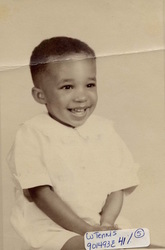 © AALC, Jeanne Moutoussamy-Ashe
Revisiting the past can provide recollections of lasting memories. When it comes to Arthur Ashe, we account for an entire legacy of moments that have not only influenced the 
world,
 but are held dear by his fans. Arthur was an extraordinary individual and much what he did became a life lesson. To celebrate  the anniversary of his birth today, on July 10th, it's only fitting to look back at his life and how he influenced the world.
Arthur Robert Ashe Jr. was born in Richmond, Virginia to Arthur Sr. and Mattie C. Ashe. In 1947 his father took a post at Brook Field, a segregated blacks-only playground, which came with a house located in the middle of the grounds. This was where Arthur learned to play tennis. In 1950, Arthur met Ronald Charity, one of the top black tennis players at the time, who began working with Arthur to develop his game. When Arthur showed promised Charity introduced him to Dr. Walter Johnson, who would go on to coach Arthur throughout his career. 
Arthur was a tennis inspiration from the very beginning. He became the first African-American to play in the Maryland boys' championships. During his youth, he excelled in school and competed vivaciously. He started making a name for himself in the pursuit of stronger opponents. By the time he was a senior in high school, Arthur was recognized for his academic and athletic talents by the University of California, Los Angeles who offered him a full scholarship to attend college.
During his undergraduate years, he was named to the U.S. Davis Cup team as the first African-American player. The Davis Cup team became a staple of his career that he played on for many years, contributing to many winning teams. In 1966 Arthur graduated with a degree in business administration. In addition to finishing school, Arthur had in 1965 won the individual NCAA championship and had significantly contributed to UCLA's winning the team NCAA tennis championship. 
After college having done ROTC, he joined the U.S. military and served at West Point where he became a second lieutenant. Arthur continued to play tennis competing in tournaments. During his time at West Point, he won the first U.S. Open in 1968 becoming the first and only African-American man to hold the title.
Understanding the value in mentorship, as Dr. Walter Johnson had shown him, Arthur co-founded the National Junior Tennis League in 1969 to expose underprivileged children to tennis while encouraging discipline and focus on academia. Arthur would go on to become involved with many other civically engaged programs and initiatives focused on youth, minorities, and education.  

---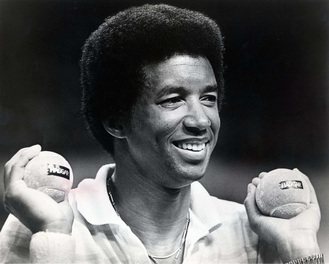 He continued to use tennis as a platform for education in engaging with South Africa. Despite being the #1 U.S. ranked player, he was not allowed a visa to enter the country to play for the South African Open in 1969. When he was denied entry, because of Apartheid, he used it as a way of exposing the discriminatory policies. Arthur continuously applied for visas and was repeatedly denied. In the meantime, Arthur's tennis career continued to flourish. He won the Australian Open in 1970, the second of his three career grand Slam singles titles. South Africa eventually granted Arthur a visa in 1973. He was the first black pro to play in the national championships and he reached the singles finals and won the doubles title with Tom Okker.
On July 5, 1975, he defeated Jimmy Connors to win the Wimbledon singles title. He was the first and only black man to win the oldest and most prestigious tournament. This month commemorates the 40th anniversary of this victory. 1975 also marked another important career milestone, as Arthur was ranked #1 in the world. 
Arthur retired from tennis in 1980 with a career record of 818 wins, 260 losses, and 51 titles. Retirement did not mark the end of his work. Arthur continued to be a public figure writing for Time Magazine, the Washington Post and Tennis Magazine; commentating for ABC Sports; and continuing his activism against the South African Apartheid regime. That same year, he was appointed captain of the U.S. Davis Cup team. Under his leadership, the U.S. won the Davis Cup in 1981 and 1982. In 1981, he also served as national campaign chairman of the American Heart Association.  
In 1983, along with Harry Belafonte, he founded Artists and Athletes Against Apartheid, which worked toward raising awareness of Apartheid policies and lobbying for sanctions and embargoes against the South African government. Two years later the immense courage of his convictions were displayed when he was arrested outside the South African embassy in Washington during an anti-apartheid protest on January 11, 1985.  
In 1992, Arthur held a press conference with his wife to announce that he had contacted AIDS through a blood transfusion from a previous surgery.  True to form, he used this experience as an educational platform to raise awareness about AIDS and those diagnosed with it. He founded the Arthur Ashe Foundation for the Defeat of AIDS, which raised money for research into treating, curing and preventing AIDS, the end goal being the eradication of the disease.  
Arthur passed on February 6, 1993 from AIDS-related pneumonia. He left a legacy of work so vast that it influences various sectors and causes. Through his actions, Arthur showed his true passion was the pursuit and sharing of knowledge.  On the anniversary of his birthday, we acknowledge the work that one man can do and how it can ripple into a vast legacy of activism and education. Happy Birthday Arthur!
Read his full bio here: http://www.arthurashe.org/life-story.html
Read more about Arthur's legacy here: http://www.arthurashe.org/arthurs-legacy.html 
---