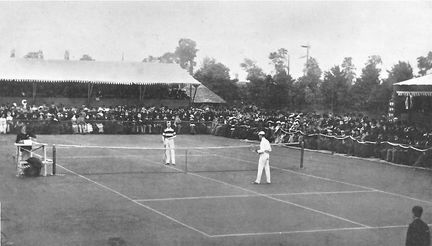 ©Gillmeister: Kulturgeschichte des Tennis. Willhelm Fink Verlag, München 1990. Original in possession of Wimbledon Lawn Tennis Museum, Church Road, Wimbledon, London. via Wiki Commons Images
Wimbledon has been a pillar of tennis for over a hundred years, setting the standard as the sport's oldest tournament. With this designation comes decades of traditions. One of the most famous traditions at Wimbledon is its strict all-white dress code for competitors.
Dating back to the 1800s, Wimbledon's dress code is by far the strictest of all the major Grand Slam tournaments. The all-white tradition began when tennis became popular with the upper class. Signs of perspiration were thought to be unbecoming of gentlemen and ladies, so dark colored clothing was banned to avoid seeing sweat spots. This dress code has always been enforced and is becoming stricter with the years.  In 2014, the All England Lawn Tennis and Croquet Club, which hosts the tournament each year, introduced a 10 part decree with their competitor's guide. These 10 parts include specified language on clothing regulations that all players must follow when they step on court or risk facing a penalty. Examples include statements that "white does not include off-white or cream" and only allowing a "single trim of color no wider than one centimeter."
Although Wimbledon just started, we have already seen the first violations of this dress code. Tuesday night, Eugenie Bouchard was reported by an umpire of having a dark undergarment showing through her all white outfit. As minor as this infraction may seem, it breaks the code outlined in the guide that "any undergarments that either are or can be visible during play" must adhere to the all-white rule. She, fortunately, did not face a penalty, though her infraction was duly noted. 
Though the players and the clothing companies that sponsor them have expressed their frustrations with the rules, it is still strictly enforced. This longstanding practice reminds us where tennis originates and pushes the players to get creative in how they present themselves at Wimbledon. Additionally though, Wimbledon preserves a specific aesthetic that is immediately recognizable when reviewing photos of tournaments. Keep watching Wimbledon in the coming days and see how the players style themselves around the stringent rules.
Read more about the dress code at Business Insider.
Read more about players' reactions to the dress code in the New York Times.
---