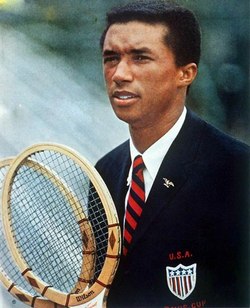 Photo via Flickr Creative Commons User: Jacky Nguyen
During college, Arthur Ashe not only represented his country in Davis Cup and won NCAA titles, but he was also an active and engaged student on campus. When he matriculated at the University of California, Los Angeles (UCLA) with a full scholarship
—
having graduated first in his high school class
—
he was attending not only because it had one of the best college tennis programs but also to receive an excellent education and be a member of his campus community.
Arthur did this by maintaining good grades and being active on campus, joining the Upsilon chapter of the Kappa Alpha Psi Fraternity. At the same time, his success in tennis continued, he was featured in
Sports Illustrated

'

s
'
Faces in the Crowd
'
(for a second time) during his sophomore year. However, the Civil Rights Movement was in full swing across the country, which often involved student organizing and provoking change at institutions.
While UCLA was welcoming to African-American athletes, the community surrounding it was sometimes refusing services to students of color. As UCLA attempted to diversify its student population, there was sometimes push back from local business owners and landlords, which became an impetus for action on campus.
To combat housing discrimination in the Westwood-area of Los Angeles (where UCLA is located), groups of African-American students would apply for apartment units at places listed as housing options by the UCLA administration. If they were denied, a group of white students would then apply. If they were accepted, the students would report their experiences to the Chancellor of the University, resulting in the removal of that building from the UCLA listing of available housing. Students also challenged businesses refusing to serve people of color in a similar way. The administration was not only responsive to these claims but also supportive, sometimes helping students facilitate protests.
In 1966, Arthur graduated with a degree in business administration, becoming the first member on the paternal side of his family to graduate college. In addition to finishing his studies, Arthur had in 1965 won the individual NCAA championship and had significantly contributed to UCLA's team NCAA tennis title.
As many students mark the end of their academic programs, it is important to look back at all that Arthur and his peers were able to accomplish during their undergraduate years. As the embodiment of the scholar-athlete, in support of civil rights, Arthur light shines as an example of what could be done if provided the opportunity to excel. This tradition continues across campuses today, with students who work toward the highest standards of academia and integrity fighting for current movements from #BlackLivesMatter to sexual harassment and rape on campus.
To the graduating students transitioning into college or finishing their degrees, the AALC sends congratulations. Young people should aim to follow in the spirit of Arthur, remaining well rounded: honing your talents, being engaged with the community around you, and constantly pursuing knowledge. Try to strive for excellence in all that you do as healthy, active citizens of the world. Congratulations to the class of 2015!
---