Fighting for Justice by Way of the Boardroom: Whitney Young and the Civil Rights Movement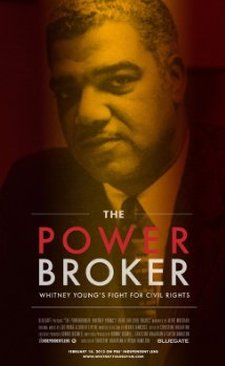 The term unsung hero is often used to describe an individual whose accomplishments are often recognized and celebrated, but whose own identity is relatively unknown. In the Civil Rights Movement, one important name among many is Whitney Young.
The subject of the documentary "The Powerbroker: Whitney Young's Fight for Civil Rights" that aired on PBS as part of its "Independent Lens" series, Young was instrumental in furthering the Civil Rights Movement. Anxious to make a difference but never to be the most prominent voice, Young made sure that he was a voice for the voiceless. A staunch advocate for the eradication of employment discrimination as well as a one-time executive director of the National Urban League, Young worked towards not only immediate reform of blacks' position in society, but to ensure that these changes and transformed views of race relations would be sustained through economic equality. 
Working primarily on the back-end of the movement, Young was an important advisor to Presidents Kennedy, Johnson and Nixon where he pushed his integration and social program agendas. He had a close relationship with President Johnson and was awarded the Presidential Medal of Freedom in 1969—the highest American honor bestowed upon a civilian. However, his agenda had a fair number of critics, especially those in the Black Power movement, who felt that his efforts to cultivate relationships with white business leaders and major corporations to create job opportunities for blacks reflected selling out. With the Vietnam War and the increasingly radical and polarized backdrop of the late '60s, many believed that it was futile to attempt to help minorities through reform of the same system that had traditionally benefited from and assisted in their oppression. As a result, Young's reputation suffered and his efforts were disregarded or minimized. 
Produced by Young's niece Bonnie Boswell, an award-winning reporter, producer and commentator, the documentary aims to delve deep into the life of Young and depict the story of a man who worked tirelessly behind the scenes to tie up the nation's loose political, social and economic ends and the adversity he faced—all with a calmness to be admired. 
To watch the trailer, a clip from the film and interviews with filmmaker Boswell and the documentary's narrator Alfre Woodard about the piece, please visit the PBS Independent Lens website: PBS Independent Lens: Powerbroker
To order a copy, read reviews, learn more about the film or watch First Lady Michelle Obama's introduction to the screening of "The Powerbroker" at The White House, please visit: Powerbroker Film
For a listing of upcoming broadcast times in your area, please visit: Powerbroker Broadcast
---