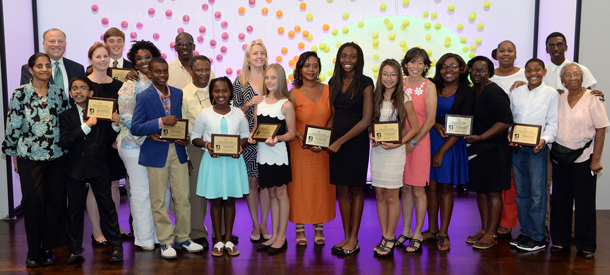 The 16th Annual Arthur Ashe Essay and Art Contest was sponsored annually by the USTA/NJTL. It asks USTA/NJTL participants to explain in 300 words or less, draw a picture or create artwork, why Arthur Ashe is a tennis legend. NJTL participants were asked to write, or draw, your response to the question, 
"Arthur Ashe used his time and skills to impact others -how have you used your time and skills learned through tennis and educational programming to impact the lives of those around you?"
Winners received a trip to New York City that included attending Arthur Ashe Kids' Day at the U.S. Open, attend a professional sporting event, see a Broadway show and receive a special award at a luncheon held in their honor.
Category                                            NJTL
Boys & Girls 10 and Under
Srinath M., 10, New York               New York Junior Tennis and Learning (NYJTL)
Makda D., 10, California                 Youth Tennis Advantage
Boys & Girls 11/12
Torianh B., 11, Connecticut          Norwalk Grassroots Tennis
Marion R., 12, Minnesota               InnerCity Tennis
Boys & Girls 13/14
Daud G., 13, D.C.                               Leadership Council for Healthy Communities
Ana-Lei K., 13, South Carolina      Lowcountry Youth Tennis Association
Boys & Girls 15/16
Roby W., 16, Maryland                    Prince George's Tennis and Education Foundation
Lea B., 15, Wyoming                        University of Wyoming NJTL
Boys & Girls 17/18
Andreas N., 17, New York               Harlem Junior Tennis and Education Program
Jasmine R., 17, Alabama                 New Lyons Park Tennis Association
View Additional Information about the 2014 Arthur Ashe Essay Contest