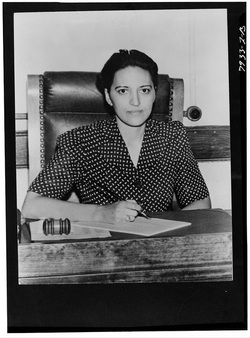 Jane M. Bolin in 1942
On this very day seventy-five years ago, Jane M. Bolin became a pioneer for African-American females in law when she became the first black female judge in the United States, sworn into the bench of the New York City Domestic Relations Court.

Bolin was born in Poughkeepsie, New York the youngest of four children to an African-American father and a white English mother. Her father was the first African-American to graduate from Williams College and become a lawyer; her mother passed away when Bolin was eight years old.

Bolin attended high school in her hometown of Poughkeepsie and was one of two black students in her undergraduate class at Wellesley College in Massachusetts. Despite her interest in law and top standing at Wellesley, she was discouraged by career advisors at Wellesley from applying to the law program at Yale due to her race and gender. She nonetheless applied and was eventually accepted, continuing her education at Yale Law School.

Following her graduation from Yale, Bolin successfully passed the New York state bar examination.  She then ran unsuccessfully for the New York State Assembly as the Republican candidate for the seventeenth district in 1936. She was eventually hired for the position of Assistant Corporation Counsel in New York City's legal department- another professional milestone for which she was the first African-American woman.

On July 22, 1939 at the New York World's Fair, Bolin was appointed by the mayor of New York City, Fiorello La Guardia, as the first African-American judge of the New York City Domestic Relations Court. Throughout her 40-year tenure in the position, she worked to eradicate race and religion-based preferences and assignments from integrated child services and childcare agencies. Furthermore, Bolin was active in the movement for improved children's rights and education. She served on the boards of various organizations, including the NAACP, the Child Welfare League and the National Urban League. As a result of her efforts, Bolin received honorary degrees from a variety of universities, including her father's alma mater, Williams College, Western College for Women and Tuskeegee Institute.

Bolin was also the first to join the New York City Bar Association.

Jane Bolin retired from the bench in 1979 and continued to serve on the New York Board of Regents. She passed away in Queens in 2007 and is survived by her soon, Yorkie Bolin Mizelle.

---