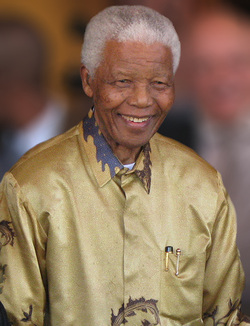 PC: South Africa The Good News
Iconic. Revolutionary. The father of South Africa. Madiba.
These are just a few of the many titles bestowed upon Nelson Mandela throughout the course of his life. And appropriately so: Mandela's unparalleled efforts to end racial inequality and the apartheid movements in his country have been the inspiration for future activists and leaders. Today, the world celebrates what would have been his 96th birthday.
In a moving piece of journalism, American sports columnist Bill Simmons chronicles the unlikely relationship that formed between the politician Mandela and the athlete Arthur Ashe, a relationship formed as a result of their personalities, passions and goals. The two, who did not meet in person until the apartheid regime had fallen, engaged in a friendship that transcended oceans and various other political and physical barriers. Both worked towards the eradication of the apartheid system in their individual manners: Mandela through his protests and activism before and while in prison, and Ashe via his efforts to expel South Africa from the International Lawn Tennis Federation, his co-founding of the organization Artists and Athletes Against Apartheid and his eventual participation in the South African Open. Their camaraderie, which lasted until the end of Ashe's life, is one that not only affected the parties directly involved, but also the lives of millions around the world, who had the rare opportunity to witness two extraordinary leaders at work.
Read Bill Simmons' piece
here
.
---