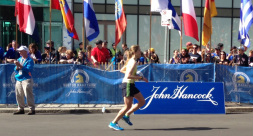 Alexandra crossing the finish line
This year one of our very own Arthur Ashe Learning Center board members, Alexandra Dell, decided to run the Boston Marathon. In addition to running a 26.2 journey, Alexandra offered to fundraise for the AALC, quite the undertaking. Alexandra was kind enough to share her impressions of the race, how Arthur Ashe's example helped her along the way, and the experience of partaking in this momentous event, particularly the warmth and solidarity the people of Boston exhibited following last year's tragic events. We thank Alexandra for running, for fundraising, and for sharing this experience with us. Her letter appears below. 
I thought I should give a recap of how the Boston Marathon went because it was an incredible experience. Maybe the feeling is always electric in Boston around the Marathon like it was last week, but it was something I had never experienced. I wrote ALEX on the front of my shirt with a Sharpie so people were yelling my name the whole way, which was great. Spectators offered us beer and vodka on mile 1. There were over a million people cheering us on from Hopkintons to Boston. My favorite sign: I Do Marathons On Netflix. 
I almost missed the last bus to take us to the start of the marathon. There were so many road closes that it was hard to get there. The whole time I kept panicking, thinking oh my god what if I'm disqualified from the race?! How embarrassing! Will I have to give their money back? 🙂 
I felt like I was running for something much bigger than myself—for the victims of last year, for the AALC, for Boston, for you guys, for the whole community who came together to cheer us on. There were all sorts of moving stories like the instances of people carrying their fellow runners who had collapsed over the finish line. You really felt the love people had for each other. At the exact moment the bombs went off last year, the announcers at the finish line asked the crowds to stop cheering and give a moment of silence. The runners coming down the last stretch were confused, like all of a sudden why was no one cheering for them? Then, all at once, the announcers asked the crowds to make the loudest noise they had ever heard, and the place went crazy. I wasn't there (having already finished, yay!) but I heard it was powerful. 
During the race, I was carried on by all the fans, the cheers, the high fives. But in the last ten miles, when everything started to hurt and my legs started to burn and feel like lead, I thought of Arthur and what he would have done. I thought of how he beat Connors in the finals of Wimbledon in 1975 when the odds were solidly against him, pulling off an unbelievable feat. And how he pulled out his hand-scribbled notes and meditated on the change-overs, driving Connors crazy.  I thought how, in my case, he would have picked up his legs faster, faster than was comfortable or than he thought he could go, maybe even meditating while doing it. I think or hope it made me run a little faster. 
I came in at 4:03:32. It was not my PR (I ran good ol' flat Duluth Marathon in 3:58), but with all the hills in the last ten miles– Heartbreak Hill was definitely a heartbreaker– I was happy with it. 
After hobbling around the streets of Boston for a few days after the marathon, I'm finally back to normal, sort of. But I don't feel the same. I feel like I was able to experience human connection in a new communal way, in the way that can turn something bad into good, pain into exhilaration, and personal sacrifice into something greater than what you could ever do by yourself.  Thank you all, my friends and family, for your love and support. 
Alexandra
---