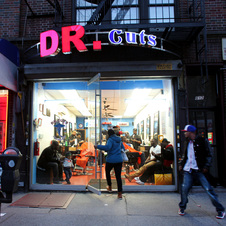 © Yana Paskova, New York Times
Desmond Romeo, originally from Trinidad, opened Dr. Cuts on Flatbush Avenue in Brooklyn twelve years ago. Since that time he has worked closely with the Arthur Ashe Institute for Urban Health, which 'collaborates with community members to design, incubate and replicate neighborhood-based interventions that address health conditions that disproportionately affect minorities.' Today, old and new patrons of the establishment come to Dr. Cuts not only to receive styling services, but also to engage in a forum where clients are encouraged to discuss personal and health concerns. After receiving training from the AAIUH, Mr. Romeo and his staff play a dual role as barbers and community health ambassadors, and lead an open dialogue about conditions such as diabetes, prostate cancer, HIV, and hypertension.
To read the full article in the New York Times about Dr. Cuts click here.
---