A Look Back: Figure Skater Debi Thomas
| | |
| --- | --- |
| | Today the world tunes in to the Sochi Olympic Games to watch the Women's short program in figure skating that, in combination with the long program that occurs tomorrow, will establish the Olympic champion. To honor one of the most captivating and popular events at the Winter games, ArthurAshe.org looks back at a remarkable and inspiring female figure skating champion: Debi Thomas.  |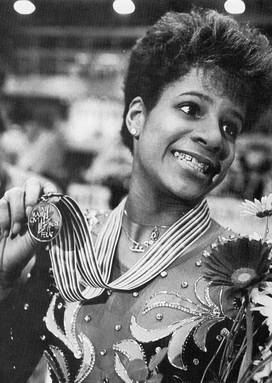 Courtesy of Hard Road to Glory, David Leonardi
Debra "Debi" Thomas was born in 1967 in Poughkeepsie, NY to McKinley and Janice Thomas. Early on, the family moved to San Jose, CA where they were one of few African-American families in their area. She began skating at age five—a significant enterprise for her family, especially after her parents divorced in 1976. Responsibility for driving Debi over 100 miles daily between home, school and the ice rink fell on her mother, which was in addition to the roughly $25,000-a-year in expenses for equipment, costumes, coaching and ice time. There were multiple stretches during which Thomas would put her lessons and skating on hold due to finances. As an African-American in the world of skating, Thomas also encountered discrimination. At one point, her family returned from a competition to find a cross burning on their lawn. Thomas first emerged on the national stage at age 12 making it to the national novice finals and winning the silver medal. As a result, her mother let her complete eighth grade by correspondence. However, after a disappointing finish in the junior ladies' competition that year, Thomas and her mother vowed to never again let skating come ahead of her education.
Thomas became famous in the mid-1980s winning the 1986 U.S. Nationals and World Championships—becoming the first African-American to hold a national title in ladies' singles figure skating. These accomplishments led her to be named ABC's Wild World of Sports Athlete of the Year as well.  During this time in addition to skating, Thomas was attending Stanford University working towards her degree in engineering. In 1987, she suffered from Achilles tendinitis, placing 2nd at U.S. Nationals as well as at the World Championships behind Katarina Witt. However, in 1988 Thomas won the second of her U.S. National Titles, leading the American entries for the Winter Olympic Games in Calgary, Canada.  She did well in the short program but struggled on jumps during the long, earning the bronze. With her third place finish, Thomas became the first black athlete to win
any
medal at the Winter Olympics. Additionally, she came in third at the 1988 World Championships, after which she retired from amateur skating.
In her skating retirement, she graduated from Stanford University and then continued to the Northwestern Feinberg School of Medicine, where she received her medical degree in 1997. She is currently an orthopedic surgeon. About her chosen specialty, she notes that, "With orthopedics, I imagine that I can use my experience to make better prosthetic devices or surgical equipment."*
Thomas has participated in many philanthropic endeavors including making a trip to Nepal with the organization Women's Orthopaedic Global Outreach to conduct free knee replacements for patients who would otherwise have no access to such procedures, work for the Make-A-Wish Foundation and serving on the advisory board of Athletes Against Drugs. She was inducted into the U.S. Figure Skating Hall of Fame in 2000 and was chosen as an American delegate to the Opening Ceremonies for the 2006 Winter Olympics in Turin, Italy.
Much like Russell Wilson, her attention to education has been a hallmark of her personal trajectory. While she looks backs at her trip to the Olympics as "not one of [her] better memories," she takes pride in her concurrent achievement of skating and studies in 1986. Reflecting on becoming the national champion for the first time while in school she says, "There we so many people saying that I [couldn't] do [that] and go to school full time, and I was able to prove them wrong."
*All quotes are from:
 "Where are they now? Debi Thomas" ESPN.com, 4 February 2000. 19 February 2014.
Nishi, Dennis. "Second Acts: Athletes Turn Torchbearers After the Olympics" Wall Street Journal, 16 February 2010. 19 February 2014.

---