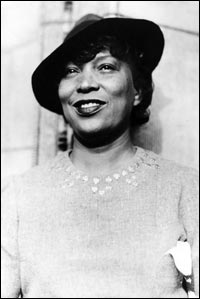 Zora Neale Hurston was born on January 7, 1891 in Notasulga, Alabama. Hurston's literary career hit its stride in the 1930's and 1940's when she published
Their Eyes Were Watching God; Moses, Man of the Mountain, Seraph on the Sewanee,
 and her autobiography, 
Dust Tracks on a Road.
Hurston grew up in Eatonville, Florida, with her parents and seven siblings. She had unique upbringing in Eatonville: a rural community and the nation's first incorporated black township. She grew up among strong black role models as both her parents were very active in this community. Her upbringing in Eatonville proved to be a critical inspiration in her work.
Zora's pleasant and nourished childhood came to an abrupt end when her mother passed away in 1904, when Zora was 13 years old. Her father remarried to a much younger woman with whom Zora did not get along. Zora and her siblings quickly fell on their father's priority list and she ultimately left home on her own, working menial jobs and struggling to finish her high school education.

In 1917, at 26 years old she ended up in Baltimore and had yet to finish her high school degree. She realized that in order to be eligible for free education in Maryland she would have to lie about her age and present herself as a teenager to qualify for free public schooling, and so she did. She subtracted ten years from her age and presented her birthdate as 1901, thus making herself 16 years old. Hurston went on to graduate from Barnard College in 1928 and published several notable short stories and articles by 1935.
Hurston's career spanned 30 years. She published four novels, two books of folklore, an autobiography, numerous short stories, and several essays, articles and plays. In 1925 she won two literary awards at a diner sponsored by Opportunity magazine. "Spunk," a fictional short story, won second place fiction prize and her play, "Color Struck," won the second place award for drama that same year.
By 1937, Hurston published her most well-known work, Their Eyes Were Watching God. In 1942 she published her autobiography, Dust Tracks on a Road, and finally received the recognition she deserved when she was profiled in Who's Who in America, Current Biography and Twentieth Century Authors.

Unlike many black authors nurtured during the Harlem Renaissance period, Hurston rarely portrayed blacks as victims of the oppression and racist attitudes held by white society and instead represented blacks as autonomous beings, proud of their folk culture. This portrayal was undoubtedly influenced by her upbringing in Eatonville, FL, where she learned the opportunities that were present to all blacks within her community. Nonetheless, this representation was an anomaly of black literature at the time, and Hurston was severely criticized throughout the 1930s and 1940s by writers such as Richard Wright, who experienced a more common upbringing in the segregated south and whose work spoke to the inequalities inherent in American culture.
In contrast, the theme of black folk culture is prevalent in many of Hurston's works such as Tell My Horse, Jonah's Gourd Vine, Their Eyes Were Watching God, and Moses, Man of the Mountain. According to literary analysts, Hurston's purpose in using black folk culture as a red thread throughout her work was twofold. One reason was inherently political: rather than focus on the everyday injustices black suffered as a result of racism in American society, she utilized this theme in her work to demonstrate that blacks did, in fact, enjoy their own culture that aptly represented communal life, oral traditions in folktales, riddles, and spiritual and blues music. The second reason was personal and historical: it was easy for her to draw material contexts for this theme from her personal life, as a child in Eatonville during the formative years of her upbringing—she did not encounter the poverty, classism, or racism that many writers of her generation accepted as reality.

The protagonists in Jonah's Gourd Vine and Their Eyes Were Watching God each depict facets of black folk culture and the struggle to embrace these cultural values within the context of 'white' values they confront in every step of their lives. Both these characters find their literal and figurative 'voices,' and therefore, their identities by embracing their talent and passion for the spoken word.
John Pearson, protagonist of Jonah's Gourd Vine, finds his gift as an unorthodox preacher in his community. Pearson withstands the test of white influence when a preacher with a distinctly 'white' oratory style attempts to compete for the same position; Pearson prevails. Despite his talent at uniting a community, it is his promiscuity that ultimately ruins his intimate relationships and becomes his downfall.
Arthur Ashe noted in his introduction to Carl Milton Hughes' The Negro Novelist, "… while Wright and other male writers also described the ambiguous, exploited, and tenuous position of black women, none could match the incisiveness, clarity, and attention to detail that was etched by Zora Neale Hurston." We follow Janie Crawford, the protagonist in Hurston's most highly acclaimed novel, Their Eyes Were Watching God, through her coming of age and transition into adulthood in the Everglades in Florida. The bulk of the plot explores three of Janie's marriages. The first to a man who was chosen for her by her grandmother, in the hope that he could provide her with the protection and materialistic comforts that her grandmother did not have as a young woman. Janie finds that she does not share her grandmother's values and does not love him, and runs away to Eatonville with her second husband, who builds a big house with a porch perfect for storytelling. However, his ambition is to become the 'big voice' in Eatonville and he overtly silences Janie's voice in the process. In her third marriage to Tea Cake Woods, Janie trades status for her independence and a voice. Although the marriage ends tragically with her husband's death, Janie ultimately succeeds in developing her own voice and identity.
In the late 1940s and into the 1950s, as Wright's model became the accepted prototype for black literary publications, editors and publishers became decreasingly interested in Hurston's style of work. In addition, when she tried to cater to the traditional black audience and speak out against imperialism in white America, editors often censored her work to cater more toward a white audience. Caught between criticism from the black literary community and the censorship within white-dominated publishing companies, she faded from public view during this period. Although she continued to write articles for magazines and journals, the substantive portion of her work would not be rediscovered until after her death in the 1960s and '70s, as a result of the civil rights and feminist movements.
The largest royalty she earned from any of her books was $943.75. Despite the brilliance of her work, her career was not a lucrative one. Hurston never received the monetary remunerations she deserved. She died in 1960 at age 69 of a stroke and her neighbors had to take collection at church to pay for her funeral. Due to extremely limited funds, she was buried in an unmarked grave until 1973. That summer, Alice Walker was determined to erect a proper burial site for Hurston and, finding an unmarked grave in Fort Pierce, laid a gravestone with the fitting epitaph: "Zora Neale Hurston: A Genius of the South."
Throughout Hurston's body of work, critics Warren J. Carson and Deborah Kaplan agree, "she did not represent the oppressi
on of blacks because she refused to view African American life as impoverished… however, her novels do oppose white culture… for example, Janie does not find happiness until she gives up a life governed by white values and enters into the verbal ceremonies of black folk culture. Loving celebrations of a separate black folk life were Hurston's effective political weapon, and racial pride was one of her great gifts to American literature." 
Selected works by Zora Neale Hurston:
Jonah's Gourd Vine (Harper Collins, 1933)
Mules and Men (Harper Collins, 1935)
Their Eyes Were Watching God (Harper Collins 1937)
Moses, Man of the Mountain (Harper Collins, 1939)
Dust Tracks on a Road (Harper Collins, 1942)
Seraph on the Suwanee (Harper Collins, 1948)
Selected works about Zora Neale Hurston:
Awkward, Michael, ed. New Essays on "Their Eyes Were Watching God." Cambridge, England: Cambridge University Press, 1990.
Bloom, Harold, ed. Zora Neale Hurston. New York: Chelsea House, 1986.
Boyd, Valerie. Wrapped in Rainbows: The Life of Zora Neale Hurston. New York: Scribner, 2002.
Warren J. Carson and Deborah Kaplan et al. Notable African American Writers: Zora Neale Hurston. New York: Salem Press, 2006.
Chinn, Nancy, and Elizabeth E. Dunn. "'The Ring of Singing Metal on Wood: Zora Neale Hurston's Artistry in 'The Gilded Six-Bits.'" The Mississippi Quarterly 49 (Fall, 1996): 775-790.
Cobb-Moore,Geneva. "Zora Neale Hurston as Local Colorist." The Southern Literary Journal 26 (Spring, 1994): 25-34.
Cooper, Jan. "Zora Neale Hurston Was Always a Southerner Too." In The Female Tradition in Southern Literature, edited by Carol S. Manning. Urbana: University of Illinois Press, 1993.
---