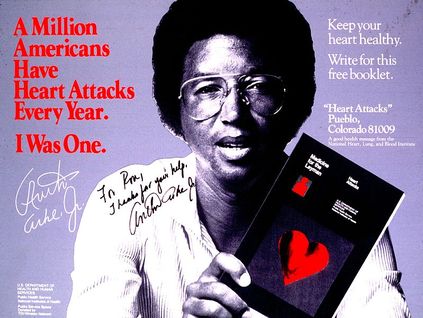 Arthur Ashe suffered his first heart attack in 1979, while holding a tennis clinic in New York. He was forty-six years old. Despite his peak physical condition as a professional athlete, Arthur did not escape the grasp of cardiovascular disease. In fact, he was biologically predisposed to cardiovascular disease, it ran in his family and both his mother and father suffered related illnesses.
Arthur underwent a successful quadruple bypass surgery in late 1979 and then another bypass surgery in 1983, following which he received a blood transfusion that was contaminated with HIV.
Throughout his professional and personal life, Arthur was an advocate of health and wellness. Due to the fact that cardiovascular disease was an issue of great importance to him, he served as Chairman of the Board of the American Heart Association (AHA) in 1981. As part of his activism, he participated in a number of visual endorsements for the AHA and for the U.S. Department of Health and Human Services (see above).
Although the annual mortality rate from cardiovascular illness has been on the decline since the 1980's, it remains the #1 killer of Americans. Every February, the American Heart Association raises awareness about cardiovascular health through its 'Wear Red' campaign during American Heart Month. The AHA is a not-for-profit, voluntary health organization funded by private contributions. Their mission is to reduce disability and death from cardiovascular diseases and stroke. The association was founded in 1924 in New York City by six cardiologists.
Today the AHA serves as a wonderful resource and a holistic tool for those looking for guidance and information about health and wellness, particularly as it relates to cardiovascular disease. The website contains subpages that inform the reader about why heart health is important to overall health, how it interacts with other chronic medical conditions such as diabetes, HIV, and obesity, and what can be done to reduce the risk of cardiovascular disease. The site caters to a diverse array of readers. Information is basic enough that everyday visitors can comprehend the language, but also provides those in the medical profession with more technical tools and resources. In addition, the site has a specific subpage called 'You're the Cure,' which focuses on the importance of advocacy and suggests a number of ways readers can get involved and advocate for cardiovascular health and awareness of cardiovascular conditions. Examples include: leading a healthy life with proper diet and exercise; using one's own story as a vehicle to connect with others in her community, as well as through volunteering at events that raise awareness and speak to these issues. For more information and to get involved, visit: http://www.heart.org/HEARTORG/
---