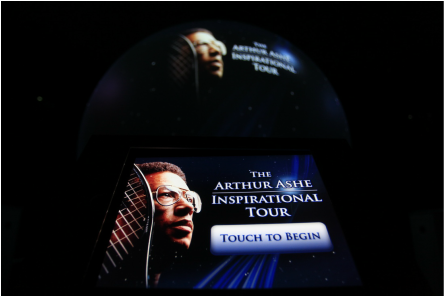 …is an interactive, experiential exhibit built around the life, legacy and values of Arthur Ashe. "We hope that Arthur's exemplary life will send the message to visitors that through education, service and active citizenship, every kid from every walk of life, regardless of origin or resources, can excel and accomplish great things," commented Ms. Jeanne Moutoussamy-Ashe, Founder & Chairman of the AALC.  
Activities featuring state-of-the-art technology  educate about the exhibit themes, which are based upon subjects Arthur Ashe cared deeply, including: Sport & Tennis; Youth & Education; Service & Citizenship; Health & Wellness.
In addition, free supplemental educational materials are provided, including pamphlets about Arthur Ashe's life and age based activity books that extend exhibit–based learning into the home or classroom. It is suitable for all audiences and is designed to be youth and family-friendly. 
Click here to view more about the Arthur Ashe Learning Center (AALC) Inspirational Tour