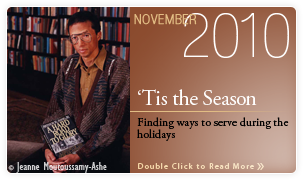 When we gather this month to appreciate our friends, family and good fortune, it is also an apt time to look around ourselves and recognize the abundance of work to be done and the ability we have to help. Service was one of the most important things to Arthur Ashe—he strove to be remembered for his contributions to the world around him rather than his achievements on the tennis court, and it paid off.
While for many, doing for others is a way to make you feel good inside. Real giving though comes in not just wanting to make yourself feel good but when doing for others you want to make a difference in the world and the lives of others. This way of thinking when doing good work tends to have more long lasting effects. However, you can give of yourself or your time no matter what, does make a difference!
There are many ways to give that require varying degrees of time, money, or other involvement. Anything from donating canned foods or an old winter coat to tutoring afterschool can make a positive impact for someone. A really important component can be tying your service to your own interests: if you love playing tennis, then share your skills by teaching kids or inexperienced players through a local program; if you're an artist, donate one of your works for fundraising purposes to an organization you feel strongly about. Whatever your skills, abilities, knowledge or passions, there is always a way to share that with your community and make a difference.
Volunteer: Volunteering time basically does not cost you a thing. You can choose projects that are long term commitments or ad hoc volunteering efforts. It is easy to sign up to spend one day or less – or longer depending on the selected program and your schedule. It is great for individuals or groups. If you and your friends, or even your company or organization, are looking for something to do in giving back, this could be an ideal avenue to consider.
You may search your local area for great causes and means of volunteering, or even visit Volunteering In America (The Corporation for National and Community Service). Visit here to find where and how to help in your specific Community:
http://www.volunteeringinamerica.gov
Food Depositories/Food Banks: Within the United States, there are food distribution and training centers providing food for hungry people while striving to end hunger within each community. For instance, in the Chicago area, The Greater Chicago Food Depository distributes donated and purchased food through its network of 650 qualified agencies throughout Cook County, such as soup kitchens, shelters, and pantries. You can visit them here:
http://www.chicagosfoodbank.org
Feeding America is a national database that is a great resource to find information on local food banks and a lot of information about food based organizations:
http://feedingamerica.org
Salvation Army: The Salvation Army is serving more people in the USA than ever before. They are already seeing large increases in the number of Americans seeking the basic necessities of life – food, shelter, and warmth. More than 30 million people received help from The Salvation Army in 2008, but the magnitude of the mission facing The Salvation Army in communities throughout the United States remains great. Click here:
http://www.salvationarmyusa.org
Toys For Tots: Drop off new, unwrapped toys at your local facility or any of their drop off locations help less fortunate children experience the joy of the holidays. More information here:
http://toysfortots.org
Ronald McDonald House: Ronald McDonald House program provides a "home-away-from-home" for families so they can stay close by their hospitalized child at little or no cost. The Houses are built on the simple idea that nothing else should matter when a family is focused on healing their child – not where they can afford to stay, where they will get their next meal or where they will lay their head at night to rest. Visit Ronald McDonald House to view their various programs:
http://rmhc.org
Habitat For Humanity: A nonprofit, ecumenical Christian ministry founded on the conviction that every man, woman and child should have a decent, safe and affordable place to live. They build with people in need regardless of race or religion. They welcome volunteers and supporters from all backgrounds. Click here:
http://www.habitat.org
William J. Clinton Foundation: Transforming Ideas Into Action: Clinton Global Initiative The Clinton Global Initiative is a project of the Clinton Foundation that brings together a community of global leaders, university students, and private citizens to identify and implement innovative solutions to the world's most pressing challenges, including poverty alleviation, climate change, global health, and education. Visit here:
http://www.clintonfoundation.org
---