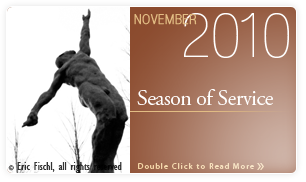 There is a wonderful sculpture on the grounds of the USTA Billie Jean King Tennis Center in Flushing Meadow, New York, created by artist Eric Fischl. It is truly art as metaphor: the sculpture represents a tennis player poised in the service motion with the arm extended forcefully yet gracefully toward the sky as if tossing the ball to the heavens offering a powerful service motion. The sculpture was created in memory of Arthur Ashe and his commitment to Service. It is poetry in motion.
What Fischl recognized was the powerful and elegant serve that Arthur Ashe possessed in his tennis game and repertoire of shot making. However, Fischl at the same time seized the opportunity to emphasize the most important aspect of Arthur's life, his service to humanity. This was by far Arthur's greatest contribution and how he truly wanted to be remembered – making a difference in the world.
This month on ArthurAshe.Org we are focusing our attention on SERVICE. We talk to Liliana Ngo, a student pursuing a career in service with a host of meaningful past experiences behind her along with featuring the stories of three Nestlé Best in Youth winners, who show that age is no impediment to helping others. We also have an article with information on how you can give, no matter what kind of time or resources you have available. Lastly, we recount the activities of some of the Arthur Ashe Legacy Groups and continue our monthly USTA/NJTL 2010 Arthur Ashe Essay and Art winners showcase Shining Stars.
Through these inspiring stories we hope you will be inspired to contribute your time, efforts and ideas toward making a difference in the world. For many of you who are already doing so we welcome your submissions about how you make a contribution in your community. We would love to learn about and share your story with our readers. Thank you for all you do and for your continued support of the home of Arthur Ashe's legacy. Hopefully we can, through this web site and through your spreading the word about Arthur Ashe's life, keep his good works moving us all forward generation after generation.
---