Come Together | Inaugural Youth Summer Olympic Games in Singapore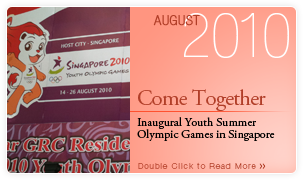 The first ever Youth Olympic Games (YOG) kicks off in Singapore on August 14th and will run through the 26th. They will follow the Olympic Games format, with athletes ages 14 to 18 coming from around the world to participate in events selected from the roster of Olympic Summer Games sports. YOG falls under the auspices of the International Olympic Committee (IOC), the same organization that runs the Olympic Games. However, while the Summer Games include 300 events, the youth Summer Games will only feature 26.
In addition to the sporting events, the YOG is using the platform of the games to raise awareness of the Olympic values, the benefits of a healthy lifestyle and the dangers of doping. There will also be cultural events to attend and an initiative to help youth around the world engage with the events as they take place in Singapore. In addition, there is also a promotional campaign including an official song, "Everyone," featuring Jody Williams (Africa), Sean Kingston (Americas), Tabitha Nauser (Asia), Steve Appleton (Europe) and Jessica Mauboy (Oceania), as well as the official YOG mascots Lyo and Merly.
For these YOG games, the IOC is expecting around 3,500 participants. There will also be a youth Winter Games in 2012 at Innsbruck, Austria (where the 1964 and 1976 Winter Games were held). The Winter Games will run nine days and feature seven sports with up to 970 athletes participating. The subsequent Youth Olympic Summer Games will be held in Nanjing, China in 2014. YOG is a successor of sorts to the World Youth Games, which took place once in 1998 and was similarly run by the IOC.
For more information see: www.singapore2010.sg.
---