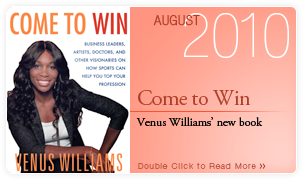 In her new book Come to Win Venus Williams asks 50 accomplished people to explain how playing sports served as a foundation for success in non-athletic pursuits. In the introduction Williams talks about her entrepreneurial efforts and how the lessons she learned from her incredibly successful tennis career translated into the business world. Williams started an interior design company, V Starr Interiors, in 2002 and debuted a clothing line in 2007. Along with her sister Serena she bought a minority stake in the Miami Dolphins in 2009. She talks about the need for athletes to diversify their interests and also how hard it can be for them to be taken seriously when branching out into new areas.
Williams talks to actors, politicians, television personalities, businesspeople, designers and doctors about how sports helped them on their path to success. Their perspectives are as diverse as their backgrounds and careers paths. However many of their stories touch on common themes. The first is how values usually associated with athletics are applicable to other pursuits. Preparation, determination, teamwork, tenacity, and a strong work ethic are all cited as keys to success in sports and elsewhere.
CNN anchor Soledad O'Brien talks about how the endurance she developed as a track and field athlete in middle school and high school helped her "hang in there" during difficult shoots covering hurricane Katrina and the tsunami in Southeast Asia. Dr. Keith L. Black, the chairman of the Department of Neurosurgery at Cedars-Sinai Medical Center, explains how he uses lessons from his time as a high school athlete to get a group of ten neurosurgeons, all with their own egos and goals, to pull together and work as a team. Denzel Washington describes how the humility, and work ethic he learned as a high school and college athlete have helped him stay grounded and successful in his acting career.
Venus Williams is a tennis legend and some of the book's subjects (Magic Johnson, Billie Jean King) are similarly accomplished athletes. But, interestingly, many of the people interviewed did not achieve professional athletic success. Often, their careers ended after high school or college and they had to give up their dreams of becoming professional athletes. Their examples are proof that athletic prowess is not the only path to success and in fact the most beneficial use of sports is often to see them as a means to an end, not an end in themselves. Many of the individuals profiled in Williams' book describe how their failure to become professional athletes motivated them to become successful in other areas. Arthur Ashe, despite his athletic success, always stressed the importance of education and making time for other pursuits besides sports. As Come to Win demonstrates, he was in good company.
---