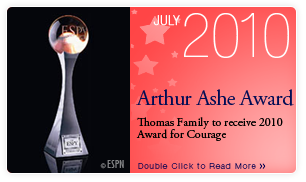 Given out yearly at the ESPY awards, which were created by ESPN in 1993 to recognize accomplishments in athletics, the Arthur Ashe Award for Courage is unique in recognizing athletes who transcend sports in dedicating themselves to humanitarian or social endeavors.
The Thomas family will receive the 2010 Arthur Ashe Award for Courage for demonstrating astonishing grace and forgiveness in the face of tragedy. Ed Thomas was a high school football coach and a pillar of his Parkersburg, Iowa community. He coached the Aplington-Parkersburg football team for 37 years, winning two state titles and coaching five current NFL players—the most of any high school coach. He was also a beloved community leader and had been instrumental in helping his town recover from a devastating tornado in 2008.
On June 24th, 2009 Thomas was training his students in the weight room when a mentally ill former player of his, Mark Becker, entered the weight room and shot Thomas, killing him. Parkersburg was in turmoil and the community was looking for answers. Thomas' 30-year-old son, Aaron, called a press conference the day after the murder. At the conference he implored the grieving town to reach out to the Beckers. The Thomas' knew the Beckers had been doing their best to deal with Mark's illness—he had been diagnosed with Schizophrenia a few years before—and were devastated by what had happened.
The Thomas family meant what they said at the press conference: the next day the two brothers, Aaron and Todd, reached out to Scott Becker, Mark's younger brother and a lineman on Ed Thomas' football team. They took him aside after practice for a private therapy session. Later the Thomas family reached out to Mark's parents as well, knowing that they were suffering too.
For over 30 years Ed Thomas inspired his students and members of his community. His family followed his example by demonstrating courage and compassion and inspiring their community to come together in difficult times. Thanks to their actions the legacy of Ed Thomas will live on, both in Parkersburg and the world at large.
Catch the 18th annual ESPY Awards ceremony live on ESPN from from Los Angeles, Wednesday July 14th at 9 pm EST. For more information see: ESPN.com
---