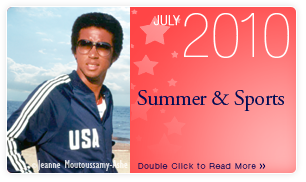 Letter from the Editor
July is when summer gets into full swing. It also marks Arthur's birthday on July 10th. The confluence of events this month—the ESPYS, the 35th anniversary of Arthur's win at Wimbledon, the World Cup being held in South Africa—seemed too much of a coincidence to ignore, and we haven't!
We have focused this month on the ESPY awards, specifically the Arthur Ashe Award for Courage. This award, honoring athletes and people involved with sport whose actions exemplify courage and service to others regardless of their differences, has been a highlight of the yearly ceremonies since their inception. They showcase the ability that sport has to be transformative, something Arthur knew well. He treasured many of the friends he met on the global tennis tour and tournament play, among them a South African Ray Moore. Together they enjoyed spirited, lively conversation, especially when discussing issues such as Apartheid and the Civil Rights movement.
I think the friendship between Ray and Arthur speaks to the powerful opportunities offered through sports but also through sportsmanship. When you truly get down to the relationships that are built through sports and the lessons and discipline that are learned, we can begin to understand the power and potential of soccer's World Cup hosted by South Africa. This is the beauty and integrity of sports worldwide. Sports offers us a glimpse of the global reach it can have to present opportunities to improve the landscape of our global community.
We hope you have an active, fun and engaging summer. Whether you choose sports or books or friendships or all three, seize the opportunity and thrive in it!
Happy birthday Arthur! We sure are glad you were born!
Jeanne Moutoussamy-Ashe
---