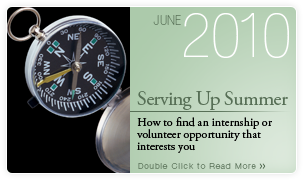 There are many ways to find summer internships or volunteer opportunities. Networking can be very effective: ask your relatives, family friends, or teachers/professors if they know of any companies or organizations that could use some help over the summer. A recommendation from someone who knows you is a great way to get your foot in the door.
But there are also many other ways to find great summer opportunities. Sites like Idealist.org and the United Way have listings for internships and volunteer positions at non-profit organizations and community groups.
Many large cities have websites about how to serve your community. If you live in New York City or Washington D.C. you can check out http://www.nycservice.org/ or http://www.serve.dc.gov/ to find local volunteer opportunities. In other cities, a simple Google search will usually turn up many organizations searching for volunteers. However it is important to be selective about which organizations you choose to work for: make sure they are a legitimate organization providing a beneficial service. Most importantly, make sure the work is educational and makes you feel good about the time you are donating.
If you live in a small city or town you can work remotely by volunteering to do online writing, fundraising, or social networking but it is also worthwhile to check out local organizations such as nursing homes, hospitals, libraries, soup kitchens, food banks, community newspapers, parks or businesses. The important thing is to choose something you are excited about and that will give you a rewarding, educational and enjoyable experience.
Volunteering Resources:
•   Idealist.org lists volunteer opportunities, Jobs and Internships in the U.S. and abroad. Also has social networking , tips and ideas
•   The United Way is a national community service database that lets you search for volunteer opportunities by location and area of interest
•   Habitat for Humanity is an organization that seeks to eliminate poverty by constructing low cost housing for people in need. They have many affiliates and you can volunteer locally or abroad
•   NYC Service lists community service opportunities in New York City.
•   Serve DC lists community service opportunities in Washington D.C.
•   http://www.rileyguide.com/intern.html#intern is a listing of internships and volunteer opportunities
•  http://www.doorsofopportunity.org/ has document listings for internships available to minority undergraduate students. There is no new guide for 2010 and most of the deadlines have passed. However, it is a useful compendium of organizations that have summer internship programs
•   ThinkIntern is an internship database, searchable by location and area of interest
•   Coolworks.com lists jobs, volunteer positions and internships in the U.S and abroad.
---